We are very excited that you are considering joining us for worship at St. George. We sincerely hope that you will find the service to be prayerful and inspiring, leading you into a deeper relationship with our Lord Jesus Christ. If you are new to Orthodox Christianity, then your first trip to St. George might be a little awe inspiring!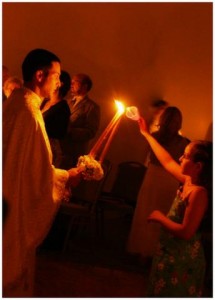 You will see faithful men and women lighting candles and kissing icons. You will smell incense burning. You will hear church music that has a distinctly Eastern flair. Worship in the Orthodox Church is a fully sensory experience, and it is precisely this that makes worship in the Orthodox Church such a beautiful thing. Your whole self – mind and body – is swept into prayer!
It will likely feel different than you're used to in your initial days worshipping with St. George's community. But before long, it will all feel like home, and it will be difficult to imagine worshipping any other way. You'll know the prayers; you'll anticipate the kneeling; you'll experience the Orthodox Church as your church, and you'll see that you are an essential component and contributor to the Church's prayer to God.
Even more amazing is when you are going about everyday life, and you realize that the Church's prayer has become your prayer. You may be driving down 51 and find yourself singing a church hymn; you may feel discouraged at work and find yourself recalling the story of a martyr; you may hear that your nephew is in the hospital and instinctively pray, "Lord, have mercy!" The prayer of the Church grabs hold of our hearts, transforming us from people who pray into people of prayer.
Come join us and share in our life as the Church, Christ's Body on Earth.
For more information on What to Expect, please read "First Visit to an Orthodox Church: Twelve Things I Wish I'd Known" by Frederica Mathewes-Green.