St. George maintains a robust liturgical life in which all are welcome and encouraged to participate. While special services appear throughout the course of the liturgical year, we have three distinct, beautiful, and theologically rich services every week.

Vespers – Saturdays at 5:00PM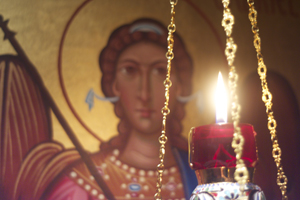 The liturgical cycle begins with the evening prayer service, Vespers. The service is very solemn, and participants hear a mini-retelling of God's Salvation in Jesus Christ in order to prepare them for participation in Christ's very Body and Blood the following morning! The service begins with a psalm narrating God's creation of the world and ends with the hymn proclaiming of Christ's Resurrection from the dead. At once, Christians are exposed to the depth of their sin while also being provided with the solution: Jesus Christ, the Joyous Light! And it all happens in less than an hour!
Orthros – Sundays at 8:45AM
While Orthros is celebrated as a distinct service from the Divine Liturgy, it is served immediately before the Divine Liturgy on Sundays. The service is chocked full of deep theology surrounding Christ's work on the Cross and His Resurrection from the dead; it introduces Christians to the deep beauty of some of the more specific feasts and fasts of Orthodox Christianity; and it tells the stories of God's work in Christ and through His saints. In every Orthros service, a reading from one of the Gospels is read, illuminating a different aspect of Christ's glorious and life-giving Resurrection. It is through the opening of the scriptures in the hymnography of the Church during Orthros that the hearts and minds of Christians are prepared to encounter the Crucified and Risen Lord in the Divine Liturgy.
The Divine Liturgy – Sundays at 10:00AM, immediately following Orthros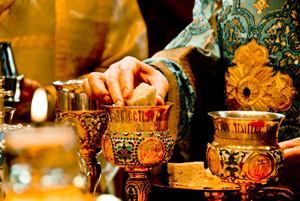 The Divine Liturgy is the very heart and lungs of the Church's liturgical life. It is during the Liturgy that baptized Orthodox Christians are invited to participate in the Lord's Supper, receiving Christ's very own Body and Blood in the gifts of bread and wine. While the Eucharistic sacrament is only available to those baptized into the Orthodox Church, the service itself is open to any who wishes to attend. For Orthodox Christians, participating in the Divine Liturgy is not simply attending another service; it is not merely "going to church." Rather, in the Divine Liturgy, the Church is more the Church than it is at any other time in the liturgical expression of Orthodox Christianity. It is participation in eternity; it is sitting at the Lord's Table in the Lord's Kingdom, dining with Him and worshipping with His saints. It is simultaneously the context in which the corporate Body of Christ offers praise to God while each person is met intimately by the God of the Universe in the very humble elements of food and drink.